One of the first prisoners that a visitor to the Fort Breendonk National Memorial learns about is Israel Neumann. An immigrant from Nisko, Poland, Neumann was incarcerated at Breendonk for some nine months before he was murdered. His story as presented on the audioguide at the memorial is heartrending.
Through my research, I was able to provide additional background information about Neumann, including some minor arrests for peddling without a license in Antwerp. I was also able to read the war crimes trial testimony of his wife, Eleonore Sabathova.
But my most surprising find was the fact, buried in his Belgium immigration documents from 1927, that his family lived in Brooklyn, New York.
I wondered: why Israel was in Belgium when his family was in New York?
Ellis Island passenger manifests revealed that Israel had immigrated to New York with his family (his parents Simon and Anna/Chana; three sisters named Cipora, Schifra, and Sima; and two brothers named Shie and Meilich) in 1921; their last name was misspelled as Neumain. They arrived on the SS Roussillon on February 1, 1921. Another son (Jacob) had preceded the family to New York and was living in the Bronx at 2074 Mapes Avenue.
I was unable to locate any information on the family from 1921-1925. The first U.S. record of the Neumanns came in 1925 with the New York census of that year. Four years after their arrival, six members of the family (now spelled Newman) were residing at 570 Van Siclen Avenue in Brooklyn: parents Simon (a Hebrew teacher) and Anna with two daughters and two sons, all now with American first names. The daughters listed on the census were Sadie (most likely Schifra) and Sylvia (Sima); the sons were Sam (Israel) and Murry (Meilech; he later changed his name to Milton). Neither Cipora nor Shie were living with the family by then.
Israel lived in the U.S. for four years. For unknown reasons, he applied for a Polish Passport at the Polish Consulate in New York on July 31, 1925. Sometime after that, he returned to Europe (most likely to Le Havre).
Did he have a falling out with his family? Did he miss Europe? Whatever the reason, he stayed in France for just over a year before deciding to return to the United States. He sailed from Le Havre to New York on the SS Caronia, and arrived in New York on October 11, 1926. The ship's manifest lists his occupation as waiter and his last permanent residence as Nisko, Poland. The manifest also indicated that he spoke three languages: Polish, German, and English.
However, he was detained on Ellis Island for almost four months. The reasons for his detention remain unclear but may well have had to do with his perceived physical and/or intellectual challenges and the concern that he might not be able to support himself. Did he try to contact his family for help? There was no way to find out. On February 4, 1927, he was deported to France.
A few months later, he applied for residency in Belgium and moved there that May.
The rest of his tragic story involving his incarceration at Breendonk is told in a series of chapters in The Prisoners of Breendonk.
As I continued my research, I was able to learn more about the Newman family.
According to the 1930 U.S. census, Anna was a widow, living with Sadie, Sylvia, and Milton (changed from Murry). Sadie was an operator in a bra factory, Sylvia was a manicurist, and Milton made hats.
According to the 1940 U.S. census, Schifra was gone, and Sylvia was now the head of the household. She was a beautician, Anna was a housekeeper for another family, and Milton was a tie salesman. They now lived at 1617 President Street in Brooklyn. All three had become naturalized United States citizens by then, and Milton may have joined the Coast Guard in June 1942. What happened to them after that is not known.
The 1950 U.S. census will not be available until April 2022; there may be more information about the Newman family then.
In the meantime, I am still trying to discover what became of his New York family both before and after 1940. If you have any information you would like to share, please contact me.
If you would like to pay your final respects to Israel Neumann, he is buried in a cemetery in a suburb of Brussels.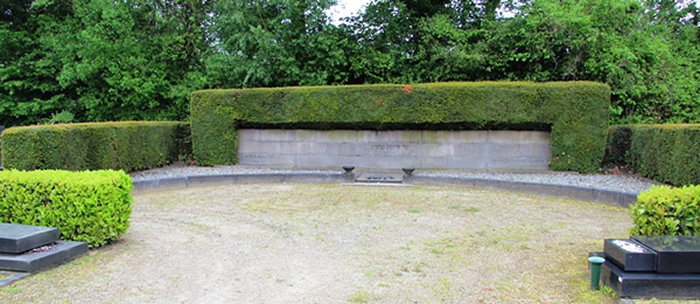 Memorial in Kraainem, Belgium, honoring some of the Jewish martyrs of Breendonk, including Israel Neumann
He and some other Jewish victims of the Breendonk SS are buried in the Jewish section of the communal cemetery of Kraainem (information in Dutch), a suburb of Brussels. It is near the intersection of the eastern Ring Road and the E40/A3, not far from the Brussels airport. An exit from the A3 will allow you to take side streets to the cemetery, as shown on the maps below.