In the very early morning hours of November 10, 1938, twelve-year-old Francis Schott and his sister were asleep in their family's apartment in Solingen, Germany. Suddenly, they were awakened by the sound of their front door splintering into pieces. From their bedroom, the startled children could hear men speaking in loud voices. The men did not seem to be robbers for they were destroying as much as they could. Over and over again, Francis and his sister heard the sound of shattering glass. 
Soon their mother slipped into their bedroom and shut the door behind her. Francis did not dare ask her what was happening, but he sensed that the intruders were Nazis who had 'come to get us.' The Schotts, like other German Jews, had been subjected to terrible humiliations and persecutions since Adolf Hitler and his National Socialist Party (the Nazis, for short) had begun to run the country. Their father, a well-respected doctor and hospital administrator, had been fired from his job because of Nazi decrees that prohibited Jews from working as physicians.
When the men left, the family inspected the apartment. Their father's cello and their prized piano had been hacked to pieces. Their mother's china and crystal had been smashed on the floor. The living quarters were ruined.
Francis knew that this night—which has come to be known as Kristallnacht, or the Night of Broken Glass—signaled the end of the world as he knew it and the beginning of a terrible new one. That night, he learned that the 'orderly world in which only the police can get you and won't come unless you are a criminal . . . is gone. By fanning prejudice into hate, a government can turn a populace into assault troops.'
Schott and his family were far from alone that night, as the Nazis targeted Germany's Jews, their homes, their businesses, and their synagogues. But Kristallnacht had not happened without warning....
~~~
Copyright © 2012 by James M. Deem. This excerpt is taken from Kristallnacht: The Nazi Terror that Began the Holocaust (Berkeley Heights, NJ: Enslow).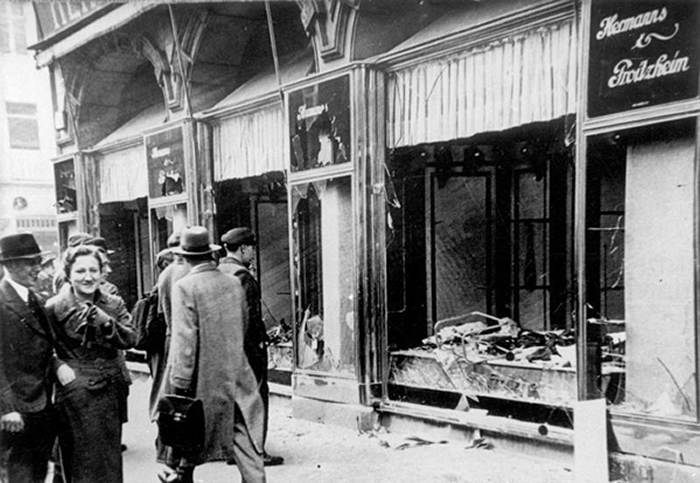 Aftermath of Kristallnacht in Magdeburg, Germany. Despite the name, the "damage" inflicted during Kristallnacht was much more serious than "broken glass"