The Garden of the Fugitives is one of the most moving areas in Pompeii.
Here, thirteen hollow spaces were found in the hardened layers of ash and volcanic debris. These spaces were filled with plaster and quickly became the statues of thirteen people--the largest number of victims found in one site. From their position in the ash, archaeologists were able to determine that they had died early in the morning of the second day of the eruption as they attempted to flee the city. They had no way of knowing that the eruption had entered its second and deadlier phase. Super hot toxic clouds of gas and debris blasted down the slopes of Vesuvius and overwhelmed Pompeii, killing everyone who had not yet left.
The location where the bodies were created became called the Garden (and sometimes the orchard) of the Fugitives, though that was not the name in ancient Pompeii. It was an area of vineyards with an outdoor triclinium, or dining room for summer eating.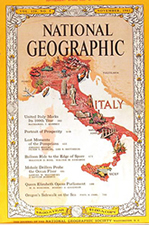 Amedeo Maiuri, the superintendent of Pompeii at the time of the discovery in 1961, was an archaeologist who liked to imagine stories that fit the nature of his discoveries. At least this was true of some of his discoveries at Pompeii. No sooner had the thirteen bodies been created than Maiuri concocted a story based on very little fact which he related in the November 1961 edition of National Geographic ("Last Moments of the Pompeians").
He described the thirteen as three groups of families--two farm families and a merchant's family:
When the band [of thirteen fugitives] decided to flee, first [in this family group] came a servant, carrying over his shoulder a bag hastily filled with provisions. We found him where he fell, near the wall of a vegetable garden.... Next, hand in hand, came the farmer's two little boys of about four and five... Finally came the children's parents, the farmer supporting his trembling wife.

Behind the farmer's family came a young farm couple with their daughter.... In the case of the daughter, the stream of plaster failed us. We have only the vague outline of what seems to be a slender, undernourished child. The merchant at the Garden of the Fugitives in Pompeii.

Last came the merchant's family--two young boys in their teens, followed by their mother and a younger sister.... The final figure in that pageant of death was the merchant, to me the most tragic of the group. He was not lying down but still sitting upright with his right arm pressed against a mound of earth and his back bent in a supreme effort to rise....
It's a very moving story, but it is completely fiction. There is no way to know who the people were or how they were related. How can a plaster statue reveal its occupation or genetic relationship to the other statues? It is simply not possible.